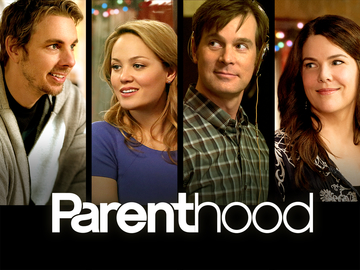 By Emily Walsh
If you haven't been watching Parenthood on NBC for the past five seasons, then now is the time to start catching up. (And Television Fanatic is the FREE and easy way to watch Parenthood online!) This fall begins the last and final season of Parenthood (sniff, sniff). And for fans of this tear-jerking, realistic portrayal of the family life in the San Fran Bay area, it will mark the end of one of the best-written, superbly acted, television dramas (just my two cents.)
But let's not jump ahead of ourselves. We still have over 10 episodes left until the close-knit, always-there-for-each-other Braverman clan bids farewell. So, that leaves us asking? What will happen to Zeke, Camille, Sarah, Julia, Crosby, Adam and their respective families?
Will Zeke's health problems resurface and how will they face the challenges of growing older? Watch Parenthood online and find out!  It seems like Sarah, Amber and Drew have finally found their path towards independent lives. Or have they? To find out what other life pitfalls may await these three characters…watch Parenthood online.  Julia and Joel? What will happen to this awesome couple? Will they stay apart or try to work toward reconciliation by the end of the season/series?  Jasmine and Crosby have had their share of trials and tribulations (from his philandering, to her meddling mother moving in with them, to endless, sleepless nights with a newborn baby.) Find out what the future holds for Crosby and Jasmine!  Adam and his wife Kristina have faced big life challenges (an autism diagnosis, a late in life pregnancy/new baby, a battle with breast cancer, an unsuccessful run for public office….just to name a few.) With the launch of their new charter school, what challenges are on the horizon for Adam, Kristina and their brood?
Whether you're binge watching Parenthood or catching up on a few episodes that you may have missed, watching Parenthood online is easy and FREE with Television Fanatic™. Catch up with Team Braverman and start watching now.