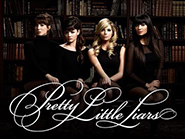 By J. Walsh
The disappearance of a young girl. Four of her friends left dealing with accusations and threats. What has happened to Ali DeLaurentis? If you want to get hooked, start watching Pretty Little Liars free right now on Television Fanatic!
Here's the deal. In the picturesque town of Rosewood, Pennsylvania, four friends try to track down who's responsible for the disappearance of their best friend Ali. As they dig up dirt on secret pasts, they start getting mysterious texts signed by "A." This TV drama from ABC Family literally will keep you guessing the entire show!
Here's the scoop on each character:
Aria – One of Ali's four best friends, Aria is quirky, funky and artistic. She meets this super cute guy and totally hits it off! The only problem? He's her new professor! Uh oh!
Hanna – The super cute fashionista of the group, Hanna seems confident on the outside, but on the inside – ummm – not so much. She suffers from an eating disorder that only her BFF Ali knew about. Is this going to be the secret she can't keep to herself? Find out when you watch Pretty Little Liars online.
Spencer – The know-it-all. She's the girl who rocks a sweater vest, is a hardworking student and is in the know about everyone and everything. But her unfortunate habit of always being first may get her into some trouble! Watch Pretty Little Liars online for free and find out what happens.
Emily – The super sweet swimmer. She's always nice to everyone she meets. And she's sweet on everyone. Find out whom she's crushing on that no one knows about. Was it Ali? Or someone else? Watch Pretty Little Liars online to find out more.
Will these four girls be able to keep their secrets buried while digging up new information on how to find their missing best friend? Find out by watching Pretty Little Liars online (for free) at Television Fanatic!
Kisses, "A"