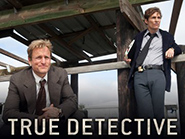 By Sam Sapirstein
Every good television show – every great piece of story telling media – creates a special world that draws you in. A good television show emits a special ambiance that turns the setting of the story into more than the sum of the characters and locations you see on your screen. True Detective is a TV show that takes this to another level not only by populating the world with excellent, memorable characters, but by making the landscape of rural Louisiana in which it takes place into a character unto itself.
True Detective – The Story
True Detective is about two homicide detectives in rural Louisiana and their experiences solving the brutal ritual murder of a young woman. Martin Hart (played by Woody Harrelson) is passionate but practical-minded man whose devotion to his wife and family is occasionally subverted by his sexual trysts with various younger women. Rustin Spencer "Rust" Cohle (played by Matthew McConaughey) is an emotionally distant philosopher whose strange monologues on the futility of existence frequently anger Martin and confound the higher ups at the police department.
Hart and Cohle must work together to solve the killing of an abused young woman and prostitute named Dora Lange. Dora's body is found in a field by a lone tree, naked, hog-tied and wearing a pair of deer antlers. Their investigation takes them through the economically depressed backcountry of rural Louisiana. Along the way they meet prostitutes who ply their trade in isolated trailers, charismatic preachers with devious motives, meth-cooking biker gangs and a generally bleak landscape of poverty and neglect that makes the brutal crimes depicted in the show feel somehow expected.